Review
Borderlands 2 [PC]
November 16, 2012
There are few games I'm willing to spend a mass out of money on to get exclusive content from. Actually that's not entirely true, thus far there has been three or four different titles I've preordered in order to gain limited edition collectibles. But if there was one that takes the proverbial cake it would be the one that provides ample frolicking of my recently customized character amongst the wastelands of Pandora; the bountiful loot-filled antics of one of four characters rebelling against an excessively attractive, witty, and sarcastic villain; the game called Borderlands 2.
Sequel to a game I ended up playing through three or four times including all the downloadable content (an additional four story arcs), Borderlands 2 understands how to make you addicted, nostalgic, excited, and overly-antsy about every game statistic….all at the same time. It follows on from the last game, but it goes into it enough detail that if you're a first time visitor to the series you'll still somewhat understand what's going on. Violence is over-the-top tongue-in-cheek awesome-sauce from the very first cinematic, introducing the four characters of which you will have already picked yours from the main menu, and you get to meet the new villain… Handsome Jack. While Borderlands had several antagonists, Borderlands 2 has opted for an overarching nemesis, one you're constantly fighting against; and being taunted by.
Needless to say the game eases you into the concept of combat, loot, and objectives; similar to the first game. Guided by the ever-lovable/annoying Claptrap you attempt to make your way to Sanctuary, the last safe haven from Handsome Jack. There are optional missions all over the place, so for people wanting the experience to make your character that tad more over-powered there's always that option, and don't forget they also often give you loot.
Loot is where it's at, loot is why you'll stop for half an hour going through every pistol you've picked up to see which one has the best damage and fire rate and which one is more likely to set your foes on fire or shock them into submission or caustically corrode those turrets or robots. It's a never-ending stats comparison that we're all happy to do if it just gives us that bit more of an edge against your opponents. And we'll do anything to get it! Just like when playing through the original Borderlands when I sold everything in my inventory for that one orange sniper rifle that set everyone on fire, I carried that gun with me through the rest of the game and drove Josh insane by stealing kills, he'd literally run around the corner just to find everything would be on fire. While sacrificing everything for one gun has it's potential to happen in Borderlands 2, with orange weapons and items being a bit more rare and the mix of white, green, blue, and purple items and weapons being easily acquirable so long as you just play long enough, that sacrifice seems less likely or at least can sometimes feel less fulfilling.
But I digress, there are four characters you can play (with Gearbox Software recently introducing a fifth), they are the Assassin, the Siren, the Commando, and the Gunzerker. Each has their pros and cons and again like the previous title they each have a special-move. The Gunzerker can wield two weapons for a period of time; the Assassin can deploy a hologram of himself then cloak to position himself in a more strategic spot; the Siren no longer phasewalks but does some purple ball force-field thing like she's now Sue Storm if running around in a swimsuit with pants precariously draped on her (pants can drape, right?); and the Commando has like a turret or something, I don't know no one ever would choose to play him, if you wanted generic commando guy go play Mass Effect or Deux Ex, or Killzone, or Crysis, or any other game just not Borderlands.
A new feature of this new Borderlands is the skin / head customization options. Previously you had limited options to customize your character, with colour selections for a few different aspects including hair, skin and clothing. Now there's a whole smorgasbord of epicness to acquire, with unique heads and skins to purchase or unlock through missions or rare pickups. There are a number of easter-eggs that play into this. You want to have a Minecraft head, you know what, defeat some creepers and you can HAVE a Minecraft head. It's also not just a half dozen or so, there's at least 80 or so different skins to choose from, and at least a dozen or two different heads.
While Borderlands fans may feel that perhaps the opportunity to be in a bigger world with other players to be able to show off your loot and battle between would have been a good addition, Borderlands has stuck to the 4-player co-op experience from yesteryear. The more people you have the more difficult the game gets and the better loot you acquire. In fact there are some bosses you can't defeat (or even summon) on your own.
However while that may have generally been the case, given the right combination of rare items, you can really be quite over-powered. Huge damage boosts, with ever-increasing accuracy, and buffed stats and skills, plus a high enough level, can make you basically unstoppable. While patching attempts to fix some of these, it has caused developers to re-evaluate how major boss battles are actually conducted, with them opting out of a purely damage-per-second system for one that forces you to need additional players.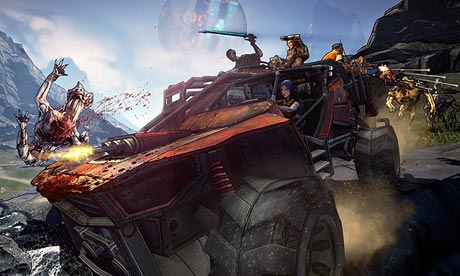 Vehicles are back as per always, with a few more unique weapons on board, each DLC introduces a new one for that area similarly to the previous title and subsequent DLCs. Driving them is like trying to drive a bucking bull strapped with rockets, which is part of the entertaining value I guess.
While I'd definitely say I was overly biased towards the game purely because of the original, Borderlands 2 has shaped up to be a great sequel that's kept true to the style and humor of the original without skimping from any of the additional features and intrigue we'd expect from any sequel. If you enjoyed the original game, you'll enjoy this one just as much. If you didn't enjoy the original, then perhaps Borderlands 2 isn't for you. If you're unsure then give it a try, you might find you like it.
Storyline – 4/5 (Some decent twists and turns and embraces the story from the last game)
Gameplay – 3.5/5 (Similar to the original, can result in things being a bit over-powered though)
Presentation – 4/5 (Unique tongue-in-cheek art style and experience)